Lithium-ion battery packs for mobile applications
A standard battery pack is the key component for any portable device since the accumulator dramatically affects the run-time and performance. We offer standardized lithium-ion batteries in different housing shapes, with worldwide approvals, a variety of redundant safety features, and a communication interface for your application (SMBus or I²C Bus). Thus, our smart standard batteries, accus, battery chargers and power solutions are suitable as a power source for all kinds of portable and mobile devices in demanding markets, like medical, military, instrumentation, robotic, and drones.
---
---
Battery packs without development costs but with worldwide approvals
Our rechargeable standard batteries are available off-the-shelf, without any development costs. This leads to reduced battery development efforts for mobile applications and enables much faster time-to-market.
Naturally, our lithium-ion standard battery packs fulfil all the market-relevant safety standards as well as the worldwide national approvals. These aspects combined with the off-the-shelf availability reduce the overall development costs and allow your new device to reach profitability much earlier.
We utilize lithium-ion cells with the highest energy density, maximized discharge current, and the utmost safety levels in our battery packs.
---
Lithium battery packs with various shapes and performances
Different chemical compositions and varying configurations of battery cells result in different housing shapes and performance data for our lithium-ion standard batteries. Depending on the application and intended use, we offer a variety of different battery cell configurations in our accumulators, such as 2S1P, 4S2P, or 7S1P.
The product line POWERPAQ is based on cylindrical cells in form factor 18650 or 21700. It is designed to meet highest requirements in capacity and current delivery. The POWERPAQ line is equipped with an extensive safety system and smart Battery Management System (BMS). We have lithium-ion battery packs from single cell up to twelve cell configurations. All variations adhere to the 100Wh limitation so shipments do not need dangerous goods declaration.
Applications with higher energy needs or the need of more discharge current may use different POWERPAQ li-ion batteries in parallel.
---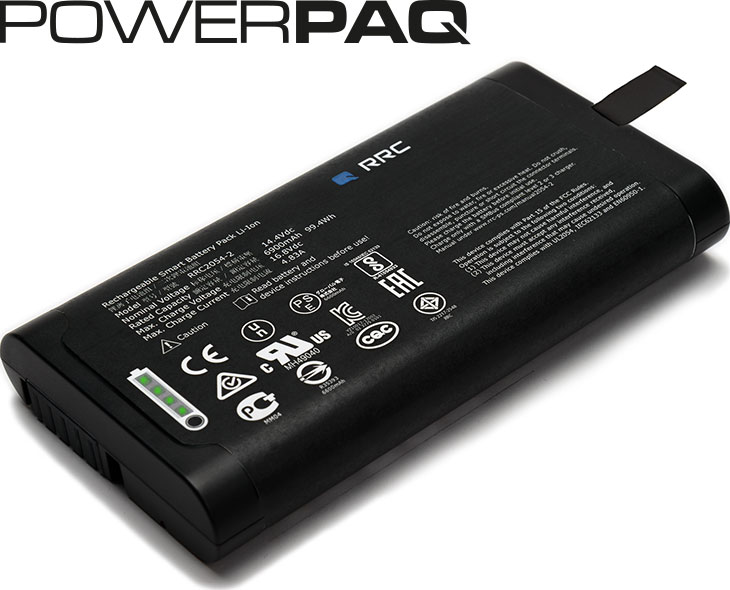 ---
Li-ion batteries for very flat devices and compact applications
Battery packs with prismatic lithium cells are currently used in consumer market products (smartphones, tablets, etc.). RRC has developed the FLATPAQ portfolio, a new family of lithium-ion (li-ion) and lithium-polymer (li-po) standard batteries with different combinations of prismatic cells from 1S1P to 3S1P. This battery type is equipped with a multi-level safety circuitry and a smart Battery Management System (BMS). The extremely flat li-ion standard battery, approximately 8 mm thick, is ideal for any application that aims for a slim design. It is conceivable, to incorporate it behind a display or the PC board, which enables a tablet-like device design for medical or industrial applications.
---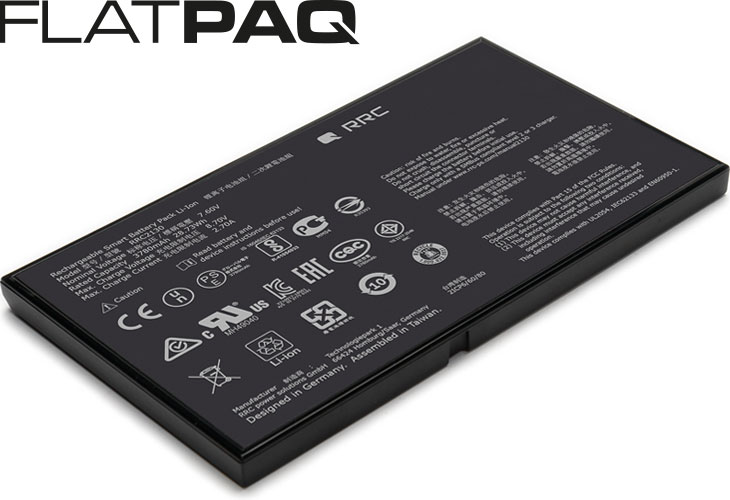 ---
Smart batteries: Battery packs for maximum reliability
Many of our standard battery packs are "smart batteries": Unlike regular batteries, which only supply the application with power, smart batteries have the ability to communicate with the device and the charger. Therefore, the smart battery uses a bus similar to I2C, which has been standardized under the name "SMBus".
Using the SMBus, numerous values can be read out from the smart battery, such as state of charge, remaining runtime, voltage, current or temperature. The charger can also retrieve information on how it can best charge the battery. An intelligent battery also provides additional status information and warnings.
All this information can be used to keep your application running in the best possible way - and at the same time ensure a long battery pack life. That's why smart batteries are perfect for applications with the highest demands on reliability, such as medical devices or precision measuring instruments.
---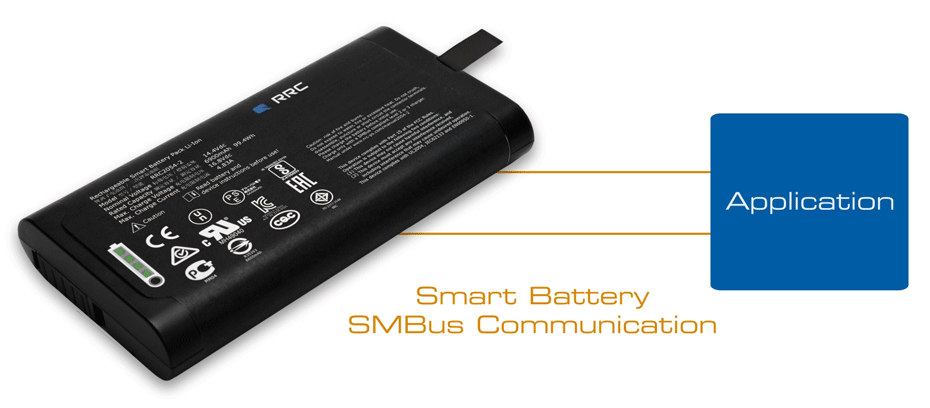 ---
One-stop delivery: Suitable accessories for accumulators and lithium-ion battery packs
As a perfect complement to our rechargeable standard batteries, we also offer a wide range of accessories for your lithium-ion batteries, such as chargers, power supplies, plugs, or cables for mobile use in automotive vehicles.
---
RRC is setting standards for portable power solutions
Our 30 years of experience in design of portable power solutions, our high quality and reliability, as well as our knowledge of requirements in critical markets are incorporated into each of our lithium-ion battery packs and power management products. Each customer will benefit from this. We continuously challenge ourselves to set even higher standards not only regarding the housing's design, but also in terms of quality and performance by striving to exceed our competition's products.
---
Your benefits using our li-ion battery packs:
Lithium battery packs with worldwide approvals and certification of safety standards
No development costs, fast time-to-market
Smart batteries with numerous features according to the SMBus specification
Smart Battery Management System (BMS)
Integrated LED State of Charge (SoC) indicator
State-of-the-art lithium-ion cells with the market's highest energy density (li-ion & li-polymer)
21700 or 18650 battery cells (POWERPAQ), prismatic cells (FLATPAQ)
Broad range of battery cell configurations from 1S1P to 7S1P, e.g.
1S1P, 2S1P, 2S2P, 3S1P, 3S2P, 3S3P, 4S1P, 4S2P, 4S3P, 7S1P
High discharge performance
JEITA charging profile optimization
Numerous and redundant battery safety features, e.g.:

CUV (Cell Under Voltage): protection against deep discharge
COV (Cell Over Voltage): protection against over charge
OTC (Over Temperature in Charge): Protection against overheating while charging
OTD (Over Temperature in Discharge): Protection against overheating during discharging

Increased ESD protection up to 8kV
Find the suitable product!
Compare RRC lithium-ion standard battery packs
| RRC PowerPAQs | Nominal Voltage (V) | Nominal Capacity (Ah) | Energy (Wh) | Discharge Current (A) | |
| --- | --- | --- | --- | --- | --- |
| RRC2020 | 10.80 | 9.22 | 99.60 | 10.00 | |
| RRC2024 | 14.40 | 6.60 | 95.00 | 10.00 | |
| RRC2037 | 7.20 | 3.35 | 24.12 | 4.50 | |
| RRC2040 | 10.80 | 3.35 | 36.20 | 4.00 | |
| RRC2040-2 | 10.80 | 6.80 | 73.44 | 7.50 | |
| RRC2054 | 14.40 | 3.40 | 48.96 | 5.00 | |
| RRC2054-2 | 14.40 | 6.80 | 99.40 | 8.50 | |
| RRC2057 | 7.20 | 6.90 | 49.70 | 9.50 | |
| RRC3570 | 25.20 | 3.90 | 98.28 | 30.00 | |
| RRC FlatPAQs | Nominal Voltage (V) | Nominal Capacity (Ah) | Energy (Wh) | Discharge Current (A) | |
| RRC1120 | 3.60 | 2.35 | 8.46 | 2.30 | |
| RRC1130 | 3.80 | 3.81 | 14.47 | 3.00 | |
| RRC2130 | 7.20 | 4.17 | 30.02 | 6.00 | |
| RRC2140 | 10.80 | 4.17 | 45.04 | 6.00 | |
You haven't found a suitable product? Discover our customized solutions.