AC/DC power supplies for portable devices
In combination with our standard Li-ion battery packs, we offer numerous AC/DC power supply solutions to power your mobile device. These can be configured depending on the required output power and input/output connector.
Our power supplies are available for different performance classes and for different standard requirements (industrial or medical devices). The units cover all the approvals required for worldwide market access.
We also develop customized solutions for special applications per request.
---
---
Energy supply from the power grid
We offer AC/DC power supplies in addition to our wide range of battery packs and battery chargers. Such power supplies are used to supply portable or stationary applications with energy out of the power grid. If your device is equipped with an internal battery charge circuitry the AC/DC power supply is powering the application while it charges the battery in parallel.
The external power supply should be capable to power a mobile device as well as provide power for the charging of the battery at the same time. Depending on the charge voltage of the battery pack and the power consumption of your device, we offer a range of power supplies, available off-the-shelf with no development costs.
---
Universal accessory with worldwide approvals
Each of our battery chargers is equipped with the corresponding power supply and both are delivered in the same box. This enables you to use the charger from scratch and to charge a spare battery while your mobile device is in use.
Our AC/DC power supplies fulfil all the market-relevant safety standards as well as the worldwide national approvals. Energy efficiency is a big focus in most countries and all our power supplies meet these requirements.
---
Power supplies for industrial and medical usage
We offer power supplies for use with industrial applications and units that comply with medical approvals. This enables the use of portable devices in more specific areas or in a clinical environment.
All AC/DC power supplies are equipped with a wide input voltage range. For our international customers we offer a range of country specific power cords to enable the use of all power supplies in national power grids.
---
Individual AC/DC power supply solutions
In case our power supplies do not meet the power solution for your mobile device, you can ask us to design and produce a customized one.
---
RRC is setting standards for portable energy supply
Our 30 years of experience in design of AC/DC power supplies, our high quality and reliability as well as our knowledge of requirements in critical markets are incorporated into each of our products. Each customer benefits from this.
From this knowledge, we continuously challenge ourselves to set even higher standards not only regarding our one-stop-shop strategy, but also in terms of quality and performance by striving to exceed our competition's products.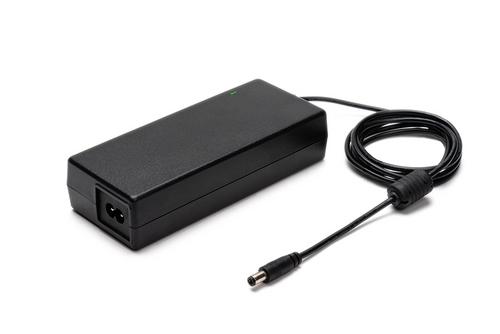 Your benefits at a glance:
Numerous AC/DC power supply solutions for industrial and medical applications
All approvals for global market access
Fulfilment of energy efficiency regulations
Wide input voltage range
Optional country specific power cords
Customized solutions on request
LED for status indication