Adapters for mobile power supply in vehicles
In addition to our range of AC/DC power supplies, we have also DC/DC power supplies in our portfolio, so-called car adapters. Sometime also called in-car power supplies, these devices are used to power mobile applications in vehicles. We offer high quality DC/DC adapters, which are characterized by wide input voltage range, consistent high performance parameters (up to 150W cont.) and maximum reliability.
Our DC/DC car adapters are designed to supply power to devices, which are operated through the electrical systems of cars, trucks, marine vessels, and aircrafts. These adapters allow manufacturers of portable devices to be less dependent on battery run-time, while also offering the possibility to recharge the device.
---
---
RRC is setting standards in mobile power supply
In case the next AC mains (wall socket) is far away but a cigarette lighter socket is near, one of our car adapters is the solution for mobile power to your portable device.
A mobile DC/DC converter or car adapter is the solution to power your application utilizing the electrical system of e.g. cars, trucks, boats, helicopters or airplanes. The use of such portable applications and the powering of your device/battery are done in parallel while you are driving a vehicle or flying in a plane. The wide input voltage range from 9-32V enables your device to operate a 12V and 24V system.
---
Industrial and medical use of our DC/DC car adapters
It is very common to charge a notebook, a tablet, or a test device during a trip to the next meeting. But we offer DC/DC car adapters with medical approvals as well. We enable the charging of medical devices in rescue vehicles or rescue helicopters while in-route to the next accident. Ensuring that the emergency technician will be ready to go.
---
Standard and customized solutions for mobile power supply in cars & other vehicles
We have an off-the-shelf, standard car adapter available, the RRC-SMB-CAR. This is an accessory for most of our standard battery chargers, and it can also power professional applications. Also, the user can benefit from the integrated USB port on the side of the DC adapter, to power a second device at the same time, like a smart phone.
---
Various car adapter configurations depending on power requirements and connector needed
It is possible to configure our car adapters easily and quickly to adopt to a customer's needs. The simplest way of customization is to mount a fixed mating connector for your application on the output cable of the car adapter. In addition, we customize the output limits for voltage and current to match with your application. The device label and the outer box of our car adaptors can be customized as well.
Within our product portfolio, you will also find car adaptors with interchangeable output connectors, called Multi-Connector-System (MCS). This solution has a diverse range of standard adapter connectors, which automatically adjust the output voltage and current. This enables the same DC/DC converter to be used in a wide variety of devices with different input voltage and current requirements.
---
Worldwide approvals of our DC/DC car adapters
Like our other product lines, our car adapters fulfil all the worldwide market-relevant safety standards as well as the national approvals. We have designed the products with a focus on the safe use in various electrical systems, with all kind of fluctuations caused by different vehicles. Therefore, our entire car adapters fulfil the required EMC standards, especially the challenging ISO pulse testing. Some are specifically approved to be used in aircrafts.
---
Our 30 years of experience in design of batteries, chargers, AC/DC and DC/DC power supplies, our high quality and reliability as well as our knowledge of requirements in critical markets are incorporated into each of our products. Each customer benefits from this.
From this knowledge, we continuously challenge ourselves to set even higher standards not only regarding our one-stop-shop strategy, but also in terms of quality and performance by striving to exceed our competition's products.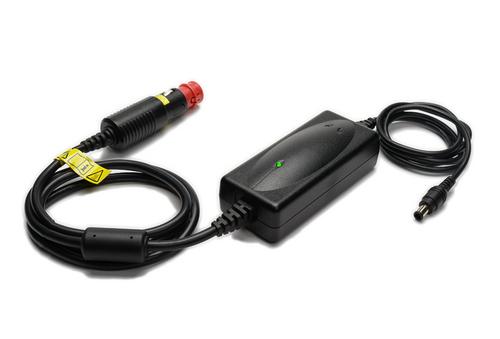 Your benefits with our DC/DC car charging adapters at a glance:
Wide input voltage range from 9 to 32V
Use in 12V and 24V electrical systems
Wide power range up to 150W
Configurable output voltage and current, partially via Multi-Connector-System (MCS)
Customized fixed output connector, device label and outer box
Off-the-shelf availability of standard car adapter
Worldwide approvals and recognition of safety standards
Design and production of customized solutions
Compare RRC Car Adapters DC/DC
| | Output Power | Output Voltage | Output Current | Output Plugs | |
| --- | --- | --- | --- | --- | --- |
| CAR12A | 12 | 3 | 4 | k | |
| CAR15A | 15 | 10 | 1.5 | k | |
| CAR15B | 15 | 3 | 5 | k | |
| CAR4A | 60 | 3 | 4 | k | |
| CAR70M | 70 | 16 | 4.37 | k | |
| CAR90A | 90 | 5 | 6 | k | |
| CAR90U | 90 | 5 | 6 | MCS | |
| RRC-SMB-CAR | 85 | 24 | 6 | k | |
| CAR100M | 100 | 16 | 6.25 | k | |
| CAR120A | 120 | 5 | 8 | k | |
| CAR150U | 120 | 5 | 8 | MCS | |
You haven't found a suitable product? Discover our customized solutions.